Cabinet hinges 30°
You may also like: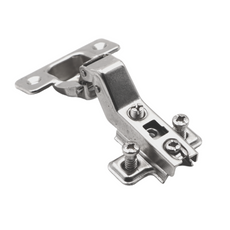 Technical data: Cabinet hinge 30° Angled doors Opening Angle: 30° Soft-Close No Cup H...
You may also like: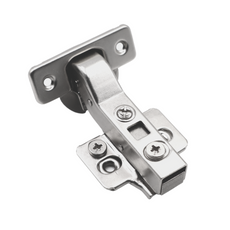 Technical data: Cabinet hinge 30° Soft-Close Angled Doors Opening Angle: 30° Soft-Close ...
Cabinet hinge 30 degrees
Furniture hinges are an indispensable part of the equipment of complete cabinets of various types. Without their work, it would be difficult to think about opening doors and how to hang them. Nowadays cabinet hinges are made of various materials, but nickel-plated steel, metals, chrome and aluminum dominate.
The 30 degree cabinet hinge is designed for furniture whose opening angle must be very low. What situations are the 30 degree angle furniture hinges used? First of all, this applies to corner cabinets, which are often small in size. Narrowly set doors in a diagonal position in relation to the adjacent ones naturally cannot be opened more widely anyway due to the lack of sufficient space. The use of cabinet hinges with an opening angle of 30 degrees allows for safe use of cabinets, no matter how close they are. Presented products can also be implemented in larger doors. The number of hinges needed should be adjusted to the specific weight of the door or cabinet door.
See related categories -
 Cabinet hinges 30°: