Screw cover caps black
You may also like: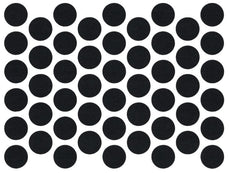 Technical data: Black Screw Cover Caps 9/16 inch Material color: Black Self-Adhesive: Y...
Screw cover caps – black
We invite you to familiarize yourself with products in this category. You will find here the best screw cover caps in black. By using these screw cover caps you can effectively cover the heads of the screws that protrude from the walls or furniture. This is a very important element that costs a penny, but it largely translates into the safety of you and your loved ones. What's more, you can use Furnica cover caps to cover other similar items, e.g. sharp-ended furniture caps or protruding parts.
Screw cover caps in fancy black colour
Here Furnica presents you completely self-adhesive cover caps what means that you don't have to worry about the mounting method. From the inside, these cover caps have a factory applied glue that, after contact with the destination, immediately connects both parts. Thanks to these fashionable, blackcaps for screws (and not only) stick in just a few moments. It is a simple and small element, but it is so practical that it maybe say it is a key of importance. In turn, black colour is an undoubted advantage of the products presented in this category. It allows you to either distinguish the glued screw from the background, or in turn to perfectly matching black furniture and materials.
See related categories -
 

Screw cover caps black: