48 inch drawer slides
You may also like: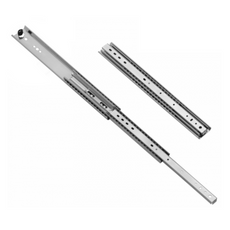 Technical data: Ball bearing drawer slides 48 inch H53 Producer: Furnica Length: 38 inc...
Drawer slides 48 inch

Are you looking for extremely large guides? In this category you will see all available 48 inch drawer slides. These are the longest furniture guides that we sell at Furnica. As a rule, they are not used in the production of home furniture, therefore they are unlikely to be ordered to replace a damaged guide at home. They are used in special applications. Drawer runner 48 inch will be useful for business furniture, drawers in containers and production containers, garage cabinets and workshops. These products - unless otherwise stated - are able to support a continuous weight of up to 299 lbs for decades. There is no need to replace or service them.
Due to the special load conditions, the construction of the heavy-duty drawer runner 48 inch differs slightly from the standard mounting elements. We have a slightly different layout of openings - both in the part adjacent to the drawer and in the part mounted to the furniture body. The assembly instructions are available on the product card. Remember to check whether a given model is available individually or in a complete set. 1 set consists of two slides - right and left.

Drawer slides 48 inch - technological advancements

The stability and smooth operation of these guides is the result of the highest quality ball-bearings mechanism. The double bearing means that even with a huge load, the guide will cope with extraordinary performance. The strength of the element is the main result of the reinforced structure, but also the effect of the highest quality production materials used. Material thickness for guides with a length of 48 inch is usually as much as 2.0 / 2.0 / 2.0mm.
Thanks to all of the above advantages and modern technological solutions, these heavy-duty drawer slides 48 inch can be safely mounted and used for many different applications. It is worth mentioning that you can easily use them for any DIY projects (for example, a bedding box with a pull-out drawer under the bed).
Purchases at Furnica after exceeding the required limit can have free delivery (UK). Some of the longest drawer slides we have got are additionally insured - read more about our innovative FurniCore Quality Assurance program. 48 inch guides available from Furnica guarantee the users the highest comfort and smoothness of movements. Order now and see it for yourself!

See related categories - 48 inch Drawer Slides: