Cabinet hinges 165°
You may also like:
Technical data: Cabinet hinge 165° Soft-Close Opening Angle: 165° Soft-Close Yes Cup...
You may also like: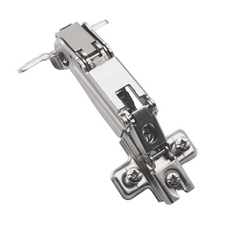 Technical data: Cabinet hinge 165° Overlay Doors Opening Angle: 165° Soft-Close No Cu...
Cabinet hinge 165 degrees
Furniture hinges 165 degrees made of high quality nickel-plated steel provide ideal visual values, easily adapting to the individual doors. Whether you are looking for hinges for kitchen furniture, bathroom fittings and equipment, or room furniture, high quality, durable 165-degree furniture hinges are perfect for every role.
Elegant and at the same time universal in use, the colours of nickel-plated hinges will match wood, metal, glass and various colours of paints. Solid workmanship makes that once purchased hinges will serve for a very long time.
Presented furniture hinges 165 degrees are designed to be mounted in doors that do not have too little space and are not located at the same time corner. In such cases, hinges with a smaller opening angle, e.g. 30, 45 or 90 degrees, are recommended. High strength of the presented hinges is combined with corrosion resistance. Thanks to this, the hinges retain their elegant, unchanged appearance. An additional advantage is the ease of installation. It is worth seeing for yourself when you order furniture hinges 165 degrees.
See related categories -
 Cabinet hinges 165°: