36 inch drawer slides
You may also like: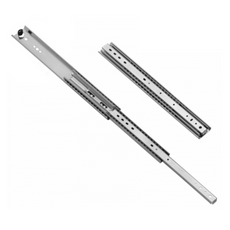 Technical data: Ball bearing drawer slides 36 inch H53 Producer: Furnica Length: 36 inc...
Drawer slides 36 inch

Drawer slides 36 inch are one of the longest slides available on the market. They are perfect for industrial and factory applications. They can be installed in furniture for storing heavy things, in advanced shelving systems containing drawers and in many other pieces of furniture. Nevertheless, they are also often used in the production of large home furniture such as built-in wardrobes. All of the above applications clearly define what a good 36 inch drawer runner should have. First of all, it must be a product made of durable components. At Furnica you will find guides made of steel and aluminum alloys with exceptional load properties. Second, the important thing is the sliding mechanism. We distinguish between ball and roller guides, but for large furniture, only heavy-duty ball bearing drawer slides (36 inch) are usually used. Also check the mounting method (screw bottom, top), maximum drawer load (even up to 140 kg), additional mechanisms (soft-close, full extension, push-to-open), guide height and many other technical parameters!

Drawer slides 36 inch - Furnicore Quality Assurance

Unlike many other manufacturers, Furnica offers recommended offers with an extended warranty. Check the product card to see if the 36 inch drawer runner has the extended Furnicore Quality Assurance. For example, a given slide may be guaranteed for the number of extensions. The best slides have a guarantee of tens of thousands of insertion-withdrawal cycles, e.g. 50,000. If we would use a statistically average drawer twice a day (two cycles a day), then the guarantee would cover the work performed for almost 68.5 years!
The above calculation is an example, but it shows how much it pays to choose good quality products that will do a great job for decades. If you are interested in such products, be sure to choose something from this category. If necessary, feel free to contact us by phone or e-mail.

See related categories - 36 inch Drawer Slides: