32 inch drawer slides
You may also like: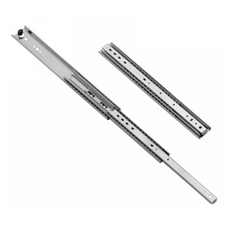 Technical data: Ball bearing drawer slides 32 inch H53 Producer: Furnica Length: 32 inc...
Drawer slides 32 inch

Furnica's drawer slides 32 inch are the most common assembly products needed in almost every bigger wardrobe and cabinets. Drawer slides 32 inch should be extremely solid and robust as in most cases they need to handle really heavy loads. If you are looking for the highest quality drawer slides 32 inch, simply check out all the products in this category!
Heavy-duty drawer slides (32 inch) usually have a ball bearing mechanism. This is due to the fact that such elements are more durable and can withstand greater loads without losing quality. The guide can slide out to the maximum or have a limited extension. It is worth checking whether the selected model has a soft-close mechanism, because it significantly improves everyday activities. When the drawer front is pushed to close, the soft-close mechanism will cause the drawer to slow down just before closing. This solution guarantees the greatest comfort, because you no longer have to worry about slamming furniture. You will also not have to invest in other types of furniture dampers and security devices.

Drawer slides 32 inch - the most important parameters

32 inch rails may sometimes implement push-to-open and self-closing technology. The first option means that the drawer can be opened by pressing its front. All you need to do is touch a piece of furniture gently, and the drawer will open by itself - calmly, slowly and safely, yet very functional. In turn, the self-closing device is recommended for wardrobes, which are very often used on a daily basis. You don't have to close the drawer completely - just push it gently and the slide mechanism will do the rest!
When choosing a drawer runner 32 inch, pay attention to what materials the guide is made of. Make sure you need a drawer with traditional (top) or bottom mounting. Check carefully parameters such as height, length, color and additional mechanisms. Our guides are extremely durable. Products with a length of 32 inch, as a rule, are installed in drawers where we store a lot of things. They are widely used mounting accessories in industrial and workshop furniture. That is why some products have a maximum load of 299 lbs! That's not all - the guides in Furnica may also have FurniCore Quality Assurance, which is an additional security for the buyer.

See related categories - 32 inch Drawer Slides: